Strategic Planning – Process Improvement – Firebird Business Consulting Ltd – Saskatoon – Regina – Saskatchewan – Canada – United States
Strategic Planning – Process Improvement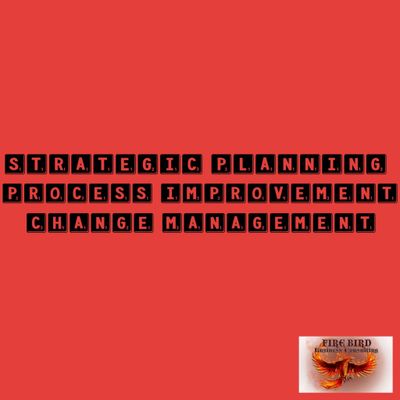 Strategic Planning Consulting – Process Improvement – Change Management Consultants
Firebird Business Consulting Ltd. offers efficient change management, process improvement and strategic planning from the conception of a business or in a well-established business – and everything in between. A well curated plan goes a long way to ensure the success of a business. Plan writing, culture building, procedure development, employee retention paired with an unbeatable product are integral foundations of a well-balanced, competitive company.
For any major process change having awareness, knowledge, ability and reinforcement allows for a clear path for the process to follow. We help find inefficiencies, assist by understanding the requirement for change, teach and implement new methods and ensure the proper people or software are in place to complete these methods. Effectively producing a successful, profitable change.
By obtaining the business goals and preforming a detailed review and analysis on the current process opens up possibilities for efficiencies and illuminates the areas needing a boost.
Discovering how each aspect and individual of the business functions with hands on consulting is integral in finding the best possible business solution for increased efficiencies.
By using gap analysis, value stream mapping, root cause and sustainability vetting to ensure the strategic plan designed by Firebird Business Consulting Ltd. for your business is the perfect match for growth and sustainability for years to come.
With a tailored plan for your company we are able to:

Create efficiencies in the current business setting without large capital investment

Develop or fine tune inventory management best practices and processes

Marry process improvements and existing employees in an efficient perspective for a greater return

Internal process training and methodology of employees to achieve the businesses goals with success.

Making tasks more simplistic and profitable from management downward

Increase effective communication techniques ensuring all personnel are on the same successful path​


Customer care preparation to ensure front line employees can handle adverse situations and that customers are 100% satisfied with the overall business and return every time
website: www.firebirdbusinessconsulting.ca
Rise from the ashes. Burst into flames and go to the next level with Firebird Business Consulting Ltd.
#NextLevel #Success #ConsultingConsultants #FirebirdBusinessConsulting #Saskatoon #yxe #BusinessDevelopment #Strategy #StrategicPlanning #Branding #BusinessPlans #BusinessConsulting #ManagementConsulting #SocialMedia #Advertising #WebsiteDevelopment #SEO #Ecommerce #Repost #Saskatchewan #Sask #BusinessConsultants #Canada #UnitedStates